TRAINING PROGRAMS
ONLINE TRAINING FOR INDIVIDUALS
Investing in your own career? Our programs will help you work more efficiently, accurately, and confidently in the technology you use every day.
Skills Acquired: Microsoft Office for PC and Mac
most popular program
REDCAPE ACADEMY
The Academy is a members-only learning platform for you to master the technology at your fingertips—the Microsoft productivity suite—so you can get more done, reduce late hours at the office, and deliver killer results in less time!
Immediate access to online learning platform
Full library of on-demand courses
Live monthly classes with Q&A
Sample files for practicing your new skills
Skills Acquired: Microsoft Office for PC and Mac
MICROSOFT OFFICE SPECIALIST
CERTIFICATION PROGRAM
MOS certification introduces a new, stress-free way of working where efficiency, accuracy, and confidence soar. It is designed for the curious, those who soak up information and aren't satisfied with the status quo.
RedCape's MOS Certification Program offers the quickest and most successful path to certification. The goal is for members to earn their first certification in 30 days.
Access for 1 year
Live monthly accountability meetings
Live monthly online training classes
On-demand library of courses
Members-only collaboration workspace
Study tools and progress trackers
Exam vouchers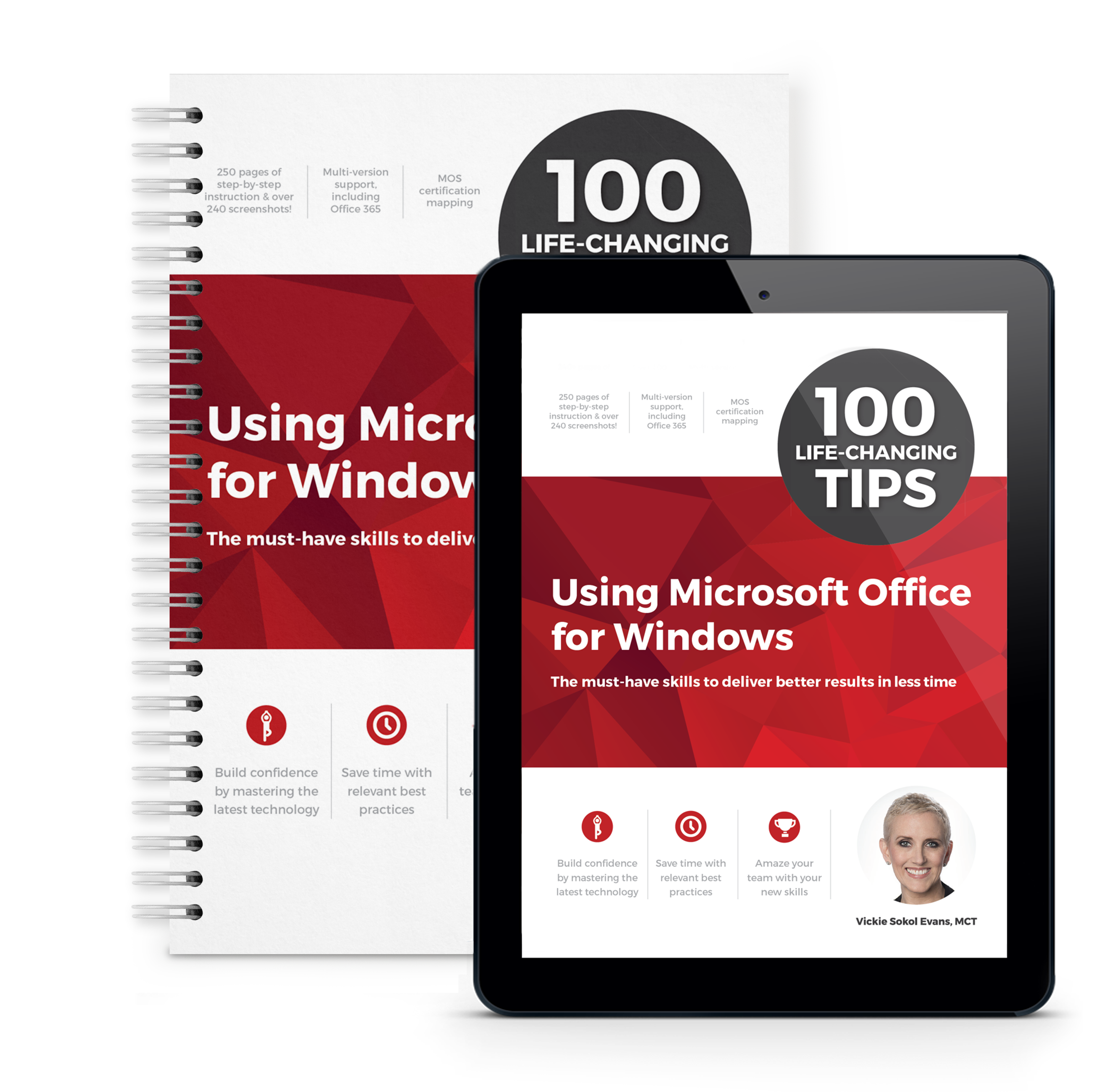 100 LIFE CHANGING TIPS BOOK
Best-selling guide, by Vickie Sokol Evans, designed for busy professionals who want to deliver better results in less time. This will be yourgo-to resource that includes the most relevant and practical tips for the Microsoft Office system.
AVAILABLE FORMATS:
Work smarter, not harder

Reduce frustration and get work done in less time

Boost your productivity like never before

Improve the quality of your work

Automate your work
CAREERS BOOSTED BY REDCAPE TRAINING
"I will never look at LinkedIn the same again. Are you KIDDING me?! I had NO idea how valuable this tool was to help me solve problems that would normally take me days. I also didn't realize how significant my 1st and 2nd degree connections are. You just rocked my world!"
I prepared a PowerPoint for my presentation to a diverse team spread across Europe, Middle East and Russia using some of the tips I learned from Vickie last week. I was amazed at how confident I felt because I was nervous when my boss told me she wanted me to lead the session a few weeks back. I am pretty proud of myself, I must say! I received positive feedback and one said she loved it and thought it looked like a professional marketing presentation. Now the bar has been set pretty high to deliver more.