TRAINING PROGRAMS
ONLINE TRAINING FOR INDIVIDUALS
Investing in your own career? Our programs will help you maximize the technology you are already working with, reduce late hours, and become even more efficient than you already are!
You can finally make the commitment to yourself to improve your career by getting your tech skills up to date. Meet monthly with Vickie and other RedCape members to see real-world examples and best practices. Additionally, gain confidence in knowing what tools you have to get your job done, not faster OR better, but faster AND better. These are foundational skills to strenghten your career, and also to set yourself apart from your competition.
Supercharge your career by leveraging all the tools to the max!
Need an introduction to RedCape Training? Ready to boost your career? Book us to Speak at your Company or Event!
most valuable program
FEATURED PROGRAM
Skills Acquired: Microsoft Office, Productivity, Google Apps
The Academy is a members-only learning platform for you to master the technology at your fingertips – the Microsoft Office System – so you can get more done in your day, reduce late hours at the office and deliver killer results FASTER!
ON-DEMAND ONLINE TRAINING
Immediate access to online training platform
Online content available 24/7 from any device
Improved productivity and confidence
Provides a sense of freedom from knowing how to use the right tools for the right job
select a program below to learn more
OTHER AVAILABLE PROGRAMS
Skills Acquired: Microsoft Office, Productivity
MICROSOFT OFFICE SPECIALIST
CERTIFICATION PROGRAM
 When you become certified, your knowledge, efficiency and productivity increase, elevating your professional value and opportunity for advancement. Plus, you'll build credibility by possessing a professional designation that is recognized around the world; grow personally and professionally; and have more confidence when tackling assignments.
Access for 2 years from the time you sign up
Online group check-ins
Members-Only Teams workspace
Breakout channels by exam or phase
Access to video tutorials for extra help
Guidance from RedCape
Who Its For: Any Office 365 User
The Microsoft Productivity Workshop For High-Performing Teams
In this highly-engaging and practical workshop based on the bestselling "100 Tips" series by Vickie Sokol Evans, learn the digital productivity secrets of  high-performing teams.
Discover quick and easy tips in Windows, Word, Excel, PowerPoint, Outlook, and more that will significantly improve your workflow and save hours of time by using more of the technology you know and love.
ON-DEMAND ONLINE TRAINING
Save time.
Eliminate bad habits (and unessential work).
Increase your skills (and confidence).
Reduce waste.
And truly feel more productive!
Skills Acquired: Microsoft Office, Productivity
MICROSOFT THEMES TRAINING
If employees aren't eagerly using the brand guidelines you've spent countless hours developing, an Office Theme is the solution for you. Available for PC/Mac, Themes allow employees to effortlessly apply a brand throughout their deliverables, plus re-purpose content seamlessly between Word, Excel, & PowerPoint.
Themes Analysis
Boot Camp

Free Webinar
Live 6-Week Online Session

End User Training

Training for all employees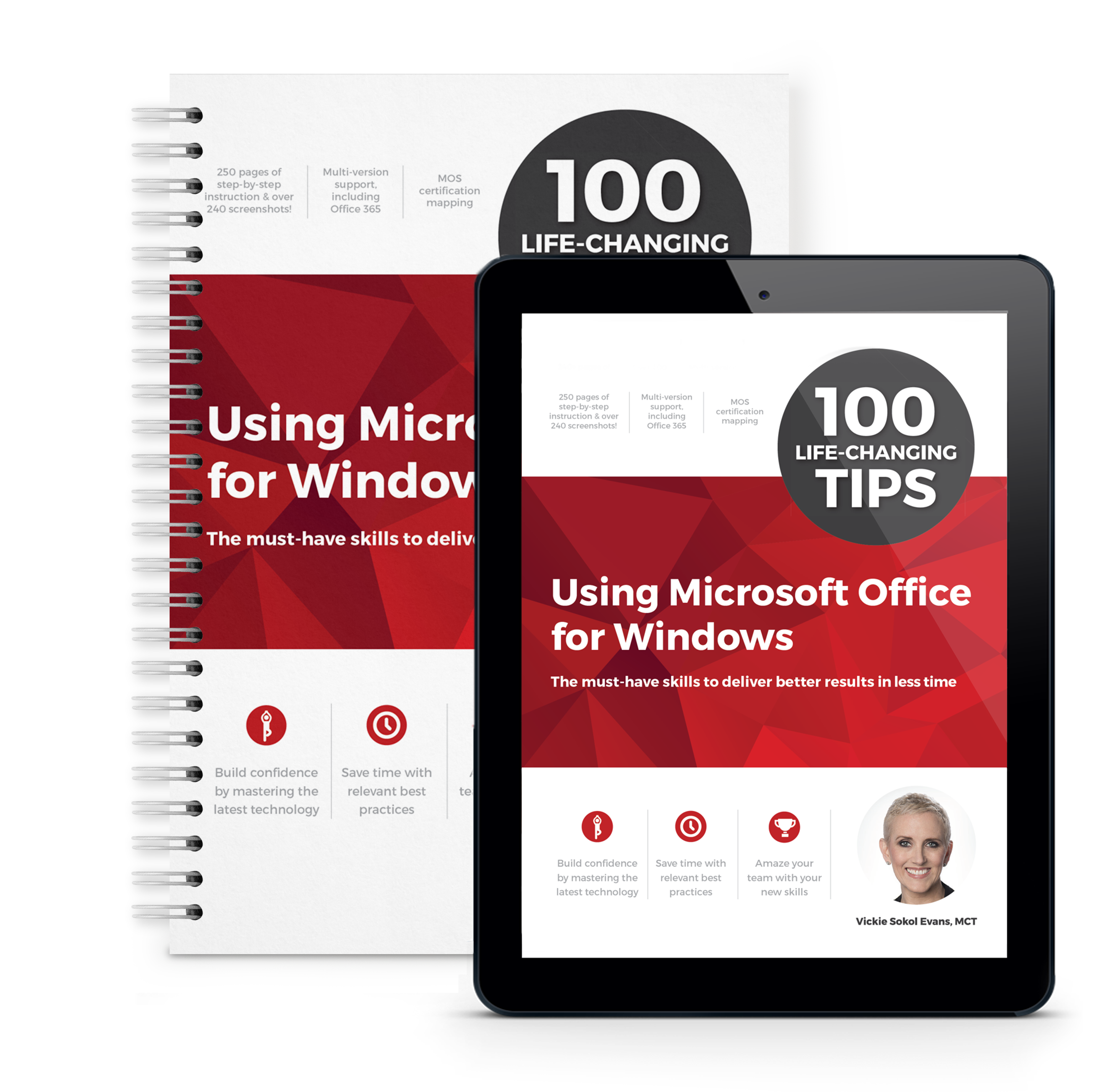 Who Its For: Individuals, Teams, Leaders, Microsoft Users
100 LIFE CHANGING TIPS BOOK
Whether you are an expert or "just getting by", this best-selling guide by Vickie Sokol Evans includes the most relevant and practical tips you need to get things done quickly and professionally using the software you're most familiar with. Plus, it introduces you to latest features that you won't want to miss!
AVAILABLE FORMATS:
Work smarter, not harder

Reduce frustration and get work done in less time

Boost your productivity like never before

Improve the quality of your work

Automate your work
CAREERS BOOSTED BY REDCAPE TRAINING
"I will never look at LinkedIn the same again. Are you KIDDING me?! I had NO idea how valuable this tool was to help me solve problems that would normally take me days. I also didn't realize how significant my 1st and 2nd degree connections are. You just rocked my world!"
I prepared a PowerPoint for my presentation to a diverse team spread across Europe, Middle East and Russia using some of the tips I learnt from Vickie last week. I was amazed at how confident I felt because I was nervous when my boss told me she wanted me to lead the session a few weeks back. I am pretty proud of myself, I must say! I received positive feedback and one said she loved it and thought it looked like a professional marketing presentation J. Now the bar has been set pretty high to deliver more.