SPEAKING
Speaking to audiences around the globe, Vickie Sokol Evans is a sought-after technology speaker and instructor with nearly 20-years teaching experience, specializing in the Microsoft, Google, and Apple productivity platforms on Desktop and the Cloud.
She has trained and inspired thousands, delivering time-saving presentations and courses to such major brands as Microsoft, Starbucks, MasterCard, The New York Times, eBay, American Airlines, The Gates Foundation, and most notably, Bill Gates's Admin Team.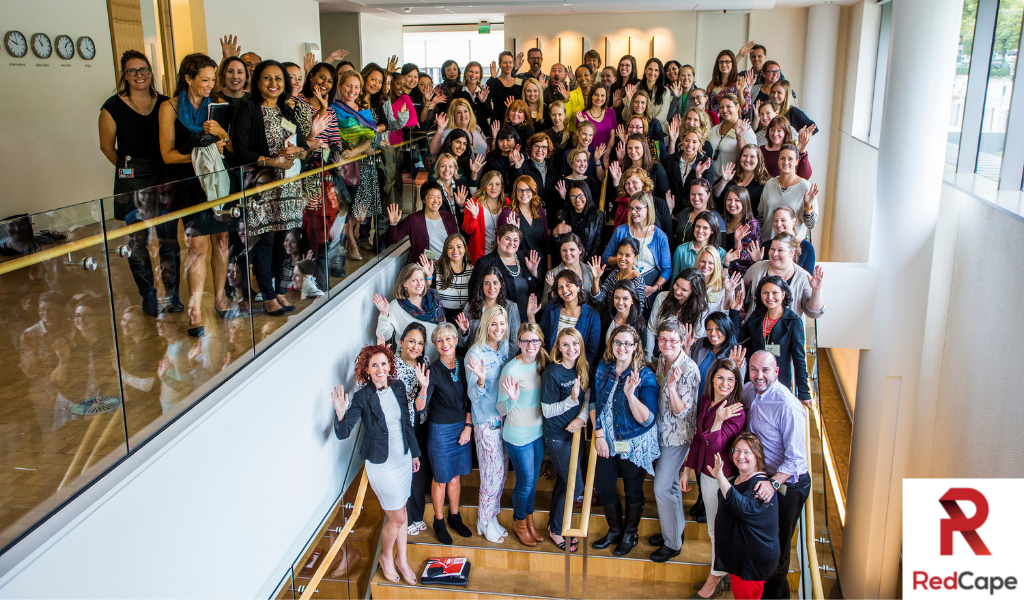 Vickie earned her bachelor's degree from The University of Texas and holds over 25 Microsoft certifications.

Having studied and performed improv comedy in New York, Dallas, and Austin, she takes the pain out of learning as you laugh your way to higher productivity!
EDUCATE, ENGAGE, AND ENTERTAIN!
In this engaging, fast-paced session based on Vickie's bestselling "100 Tips" series, discover quick & easy tips & tricks in Word, Excel, PowerPoint (and more) that will help you work less AND better by using more of the technology you know and love!
This session is for anyone who wants to get better, faster, & stronger! – Assistants, Executives, Business users, Business owners & solopreneurs, Event planners, IT Pros & Trainers!
IMAGINE, the PAYBACK…
According to attendee surveys, 1-hour in a RedCape speaking event annually saves your company $800 USD in productivity per learner! That means for 100 attendees, your company can save $80,000 in productivity in a year for one hour of training!
100% of IT pros, managers, and team leads who attend our speaking events recommend RedCape training for end users!
"I found the session simply eye opening and inspiring. I knew that were many tips and tricks that I was not utilising but never realised how many. I have already shared tips with colleagues who were left amazed that we were just one-click away from getting the job done that had previously taken 15+ minutes before. I plan to work through the entire book."
"Your class has changed my life – not just my day, but my life. I'm so at rest right now. I am walking away full of life and knowledge. Finally going to be able to leave work on time to spend with my family because I'm working more efficiently. Thank you!"
"Incredible timesaving tips. I am marking this on my calendar as a day that changed my life!"
Audience Favorite Speaker
Annual Productivity Saved Per Event Attendee
KEY TAKEAWAYS
Master exciting Windows tips you'll be sharing with your colleagues and friends.
Learn how to *instantly* format documents in Word that just might make you cry and make you want to get back to your desk to try.
Discover secrets to managing and formatting your lists in Excel that will transform the way you work and save you hours of time.
Effortlessly convert boring bulleted slides into meaningful visuals, and more…
KEY BENEFITS
Learners:

Feel the freedom of knowing how to accomplish every task!

The Company:

 Increase productivity, morale, and technology ROI!

For the Team Lead/Manager:

 Become a mentor and SME to your team!

Meeting Planners:

 Attendees leave excited and empowered, knowing how to work less AND better – immediate value for your event!
ADDITIONAL TOPICS
100 Tips – recommended session
Simplify your Life using Office Themes
Excel Tips & Tricks
Digital Notebooks using OneNote
Outlook Tips & Tricks
PowerPoint Slide Masters
Word Styles 101
Need to train a specific team or teams within your company or organization? Vickie will bring what you need to ensure success for your team!
Holding a Conference or Convention? Book Vickie to be one of the speakers. Main session, breakout session, or keynote, Vickie will bring the energy and education you need for a successful event!
not your typical technology presentation